Jens Tingleff's Home Page
---
---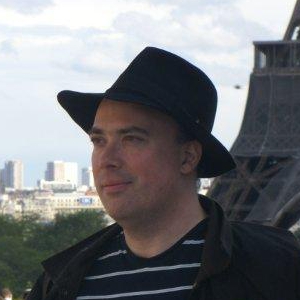 Wilkommen, bienvenue, welcome, to my home page!

This page talks about what I do for a living - and how I got that way - some things apart from that, some political activities and whatever links I felt like including.

Photo taken by Steen Mikael M

---
I do high-tech integrated analogue circuit design. I moved to Cambridge, UK, from Paris to continue work on system and analogue circuit design for Bluetooth and other Wireless LAN chips.

I didn't always do this, of course; I spent well nigh 10 years studying/working in universities in Denmark and England. Before studying (for real), I grew up in Herlev, just outside København (Copenhagen), the capitol of Denmark.

In the course of these studies, I somehow scraped through to get a PhD, writing a thesis about Current Mode Wave Active Filters. I also wrote a few papers , mainly on Circuit Theory and Design, but also the odd paper on Software Design.

Download Postscript version of thesis
---
This is mainly a picture gallery containing my own pictures, and a few by others.
---
You'd think that an organisation calling itself a Church would behave in a generally genteel fashion. Not so the "church" of Scientology® (affectionately known to us critics as "the Co$").

From reading all about it on Usenet, in the group alt.religion.scientology, I went to contributing to defense funds and attending demonstrations. In London, March 9th 1996, the scientologists handed out (anonymous) leaflets entitled "The howls of the Lawless", containing the following level-headed appraisal of the two sides to the conflict...
In contrast to Martin Poulter and the small handfull of Internet abusers who are howling because they have been told to follow the law, the Church's actions, which benefit the millions of persons who want protection of their copyrighted materials, have been acknowledged by responsible people the world over.

The extremist Internet abusers seek to destroy people's rights and destroy the law. The Church's actions in upholding the law are creating peace and order for the law-respecting majority.
This is exactly the kind of prose which convinced me about the relative merrits of the two sides in the conflict ;-)
More about this fascinating topic on yet another critical page
| | |
| --- | --- |
| | In the UK, a group of Anti-Co$ protesters have been dragging a toy dog over large amounts of England. Click on the image to be taken to the generic picture/report page |
---
Click on the graphic logos to go to the sites
Just for fun
While serious stuff has its place, there should be room for things which are simply here to make spare time more enjoyable.
| | |
| --- | --- |
| | I love Jeff McNelly's cartoons, and Pluggers is definitely one of the good ones. This Web-site has an extensive archive, and coverage of the superb first Pluggers book |
The Complete RC Websites Index
I'm nuts about Radio Controled models; this site collects lots of marvellous sites on this subject
| | |
| --- | --- |
| | This site has a vast collection of pictures of real planes. |
Free software
In an industry where commercial products (like operating systems) are rightly derided as being of abysmal quality, it's good to see that software that's free of charge can be downright superb. Here are but a few sites describing great software.
| | |
| --- | --- |
| | Life just wouldn't be the same without GNU (GNU's Not Unix) software... The GNU project manages great applications which run perfectly on free operating systems, like: |
| | |
| --- | --- |
| | MkLinux (Micro-Kernel Linux) is an Apple Computer sponsored collaboration with the Open Software Foundation. It runs just great on the Macintosh which I bough exactly because I thought something like this would happen. One gets to be in complete control, and can run monster applications, such as GNU Emacs, or the GIMP... |
| | |
| --- | --- |
| | The GIMP (GNU Image Manipulation Program) is amazing! Even a beginner as myself can use it to create usable images... |
Images in this section taken verbatim from the pages addressed. I've received permission from four out of six sites to do this (and no reply from the two others...)
---
IPR information
All material copyright © Jens Tingleff 1996, 1997, 1998, 1999, 2000, 2001, 2002, 2003, 2004 except otherwise noted. Non-profit distribution permitted.

Scientology is a registered trademark of the Religious Technology Center and is hereby acknowledged.
---
Send mail to Jens Tingleff (jensting@tingleff.org) Last modified: Wed Aug 25 18:40:15 BST 2010