More pictures from protest against the Co$, Poole, March 28th 1998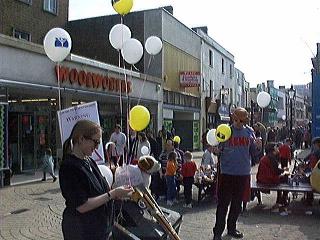 A delegate from ARSCC(tinarscc) - Boston, MA, joined us and did sterling service with the balloons. Duke keeps a watchful eye on the proceedings, while Xemu fumbles with balloon strings in the background.

Photo: Hartley P.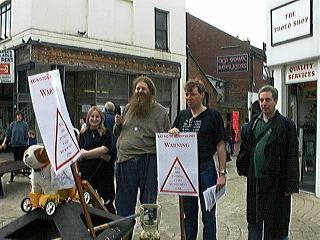 Group photo of most of protesters.
Photo: Hartley P.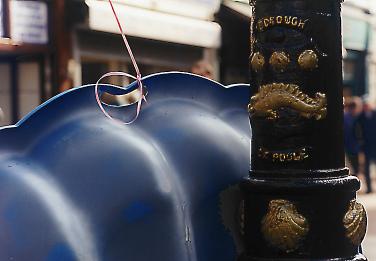 It turns out that the little logo cast into all lampposts in Poole (and highlighted in faded gold paint) is fish and clams. We knew Poole was full of clams, but this is outrageous!
To highlight the irony, this picture is taken next to the giant clamshell.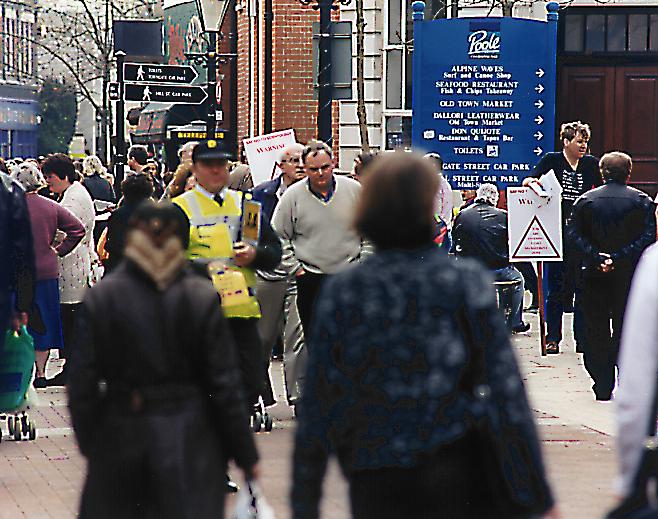 This was why we handed out an estimated 900 leaflets. The high street is absolutely packed on Saturdays.
Visible are Roland (on the left under the black/white sign, with his head turned), the sign in the middle of balloon central (this was after we ran out - somewhere between 80 and 100 balloons handed out) and A.N. Other protester with sign on the right.
In a bright yellow vest between Roland and balloon central is the guy who was selling AA (Automobile Association) subscriptions. The last time we were in Poole, the senior OSA representative had a long talk with this gentlemen shortly before the police started being nasty about our sound system.

---
---
Last modified: Sat May 16 16:14:04 CEST 1998