Pictures from protest against the Co$, Poole, March 14th and 28th 1998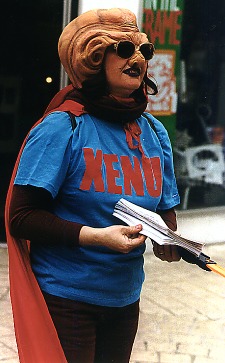 In view of German equal-opportunity requirements (the ARSCC - tinarscc - UK chapter is keen to keep on good terms with the, ehrm, relevant legislators...), this protest featured Xenu's wife.

Seriously; a protester from out of town put on a splendid show with a mask, light-sabre, outfit and garish makeup. She complained that kids seemed too scared to receive any of her leaflets... The front of the costume featured red-on-blue XENU and the cape had blue-on-red. The mask is a regular Ferengeti (sp?) mask and the make-up effort included bright blue lips and red lipstick on the teeth.

Attracted lots of attention ;-)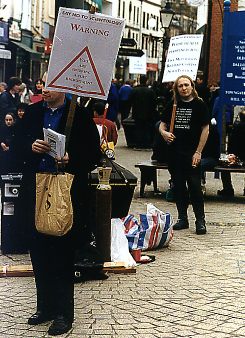 This is what "ambush alley" should look like every day. While we managed not to be obstructive, we also handed out something like 1000 (one thousand!) leaflets.

---
Reports from
Roland R-B.
John R.
Dave B.
Martin P.
---
---
Pictures from protest against the Co$, Poole, March 28th 1998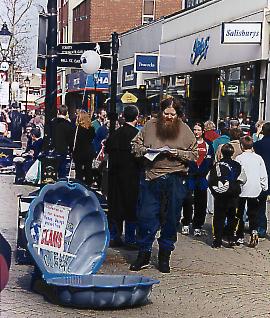 This was the first time we used Clarrie the giant clamshell. It caught the eye of people very effectively.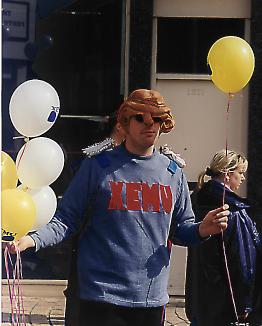 This time we had yet another Xemu costume. The mask is the same as last time, with the sunglasses on the inside (effect not so good, admittedly). Compared to the old mask, the new one looks a little more goofy and is much more comfortable. The kids were delighted to receive balloons from this creature.

One notices the very spiffing epaulettes, and the nicely saturated red of the XEMU.

photo: A.N. Other protester

---
Reports from
Roland R-B.
Dave B.
Hartley P.
Hilary O.
Peter L.
---
---
Last modified: Mon May 25 15:19:56 CEST 1998