Protesters picket at cult's HQ
Original scan, JPEG format, 220kB
---
Protesters picket at cult's HQ
By James Drury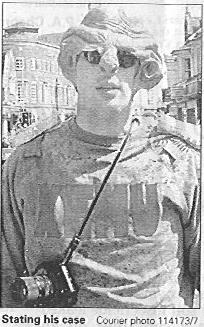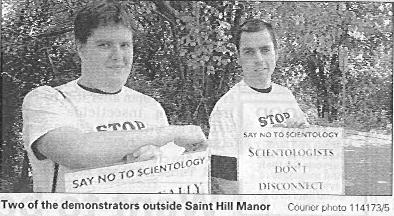 A six-strong group of protesters waved placards and shouted warnings in a demonstration outside the Church of Scientology headqurters at Saint Hill on Saturday.
Some had travelled from France and Brimingham to take part in the protest as part of the international pickets to mark Dianetics Day.
The demonstration began outside the cult's Saint Hill premises as protesters gathered on the drive.
Sect security guards took photographs of the demonstrators before telling them to leave the private land. The protesters moved on to the road but police arrived and told them to move for their own safety.
Sector commander Insp Robin Smith said: "Everyone is entitled to demonstrate peacefully as long as it is safe."
The protest then moved to the Saint Hill Manor Information centre and Bookshop in London Road where demonstrators handed out leaflets to passers-by and shouted: "Get Your information against Scientology here."
Organiser David Bird told the Courier: "I have been involved since about 1995. There are demonstrations about once a month, mostly in London, Poole and Brighton, but this is the first one here."
Former Scientology member Roland Rashleigh-Berry, from London, who claimed he had handed over almost £50.000 to the cult, said the protest was to "bring awareness of the dangers of the church."
Jens Tingleff, who had travelled from Paris after reading about the picket on the Internet, said: "I have been protesting for about two-and-a-half years. I feel very strongly about this. It is my mission to inform the public that no-one gets anything from Scientology."
The group claims that the core belif of Scientology hinges on excorcising souls or "thetans" of galatic leader Xemu's subjects killed to solve overpopulation problems. One of the protesters dressed up as Xemu in a bid to get his message across.
Scientology public affairs director Graeme Wilson said: "Saturday was on the 48th anniversary of publication of the book Dianetics. During these 48 years, nearly 18 million copies have been sold.
Religion
"Further research into the spiritual nature of man by the founder of Dianetics, L Ron Hubbard, resulted in the creation of the Scientology religion, the only new religion to be formed in the 20th century and recognised to be the fastest growing religion in the world.
"Much of the research in the 1960s was done in East Grinstead. There are always those who attack efforts to better mankind. People wonder why our church is attacked.
"You could equally ask why were Christians thrown to the lions? Why have religions been discriminated against or persecuted throughout history? In Scientology you don't need to take anyone's word for it --- you learn to think for yourself."
---
---
jensting@tingleff.org Last modified: Wed May 27 14:08:43 CEST 1998