More pictures from protest against the Co$, London, Oct 7th, 2007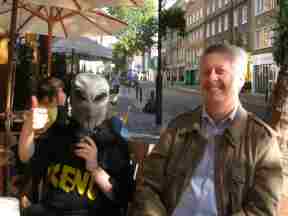 When you've traveled Bob knows how far frmo your electronic cage, it's good to refresh with a softdrink before going on a demo.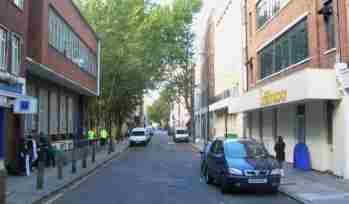 Setting up demo across from the "entrance" in Whitfield street. The entrance on Tottenham Court Rd (main body-routing point, we surmised) was shut.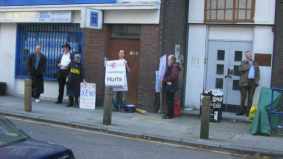 Loads of protesters. From left, Andy, Jens, Xenu, New Protester 1, Hartley, John.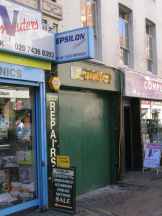 We would have liked to protest in Tottenham Court Rd (where the foot traffic is), but the clams resolutely held the door shut.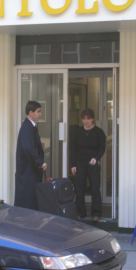 Someone dressed up to look like a naval officer on shore leave.. Checking out of the Whitfield Street door (joined when leaving by a woman, also dressed in severe blue).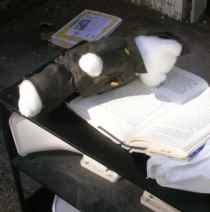 Our protesting mascot reading through History of Man. when he's done with that, we'll get him started on the proper literature (the phone book lying in the background).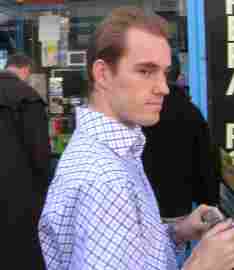 After the Tottenham Court Rd entrance finally opened, we moved into position. We were photographed right away.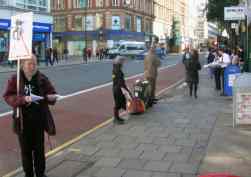 Demo coming along nicely.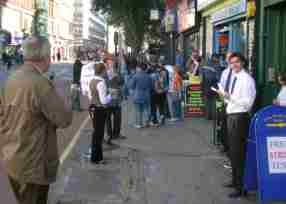 As usual, grumpy clamette couldn't resist the temptation to come stand on our toes.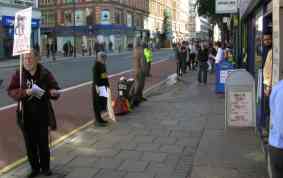 Grumpy clamette moved back to the shop front after a while.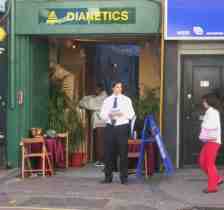 After we decamped for the wider pavement across the road, the clam shop activity went down. A bit.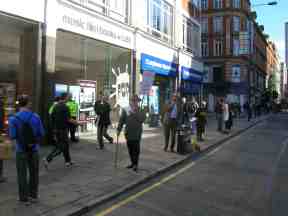 The sunny side of the street.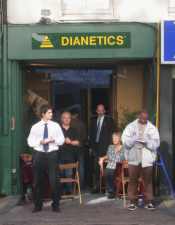 We certainly had the attention of the assembled clams. I guess they just don't want to bodyroute anyone.
---
---
Last modified: Thu Dec 14 21:13:22 GMT 2006